Jeremiah B. Munger published The Munger Book in 1915. He had spent more than twenty years on his project. He traveled many miles, talked with many people, visited many graveyards, consulted many public records, used valuable old papers, and relied upon the assistance of other Mungers. His book organized in a useable way a vast amount of family information while correcting erroneous statements which had been accepted as authority. Yet, after all of his research, he freely admitted that doubtless he had made mistakes.
Now, a century later, a vast amount of archival, library, and public records material is easily accessible on the Internet. Jeremiah B. Munger's mistakes, incompleteness, oversights, and lack of documentation can be corrected. There is no need for anyone to accept any of J.B.'s facts without verifying them first.
Thus, this Munger Matter section of my website is devoted to correcting J.B.'s mistakes and to adding new material. Contributions come from my own research and from many other researchers who shared their knowledge through John Robert Munger Editor and Publisher of The Munger Quarterly.
My major correction traces and explains the controversy over Nicholas Munger's spouse and how Jeremiah B. Munger mistakenly named the wrong Sarah. Click on the GREEN words Nicholas Munger's Marriage, to read and download a more detailed version of my article "Who Did Nicholas Munger Marry?" American Ancestors Magazine, Volume 20, no.1, Spring 2019, page 43-47.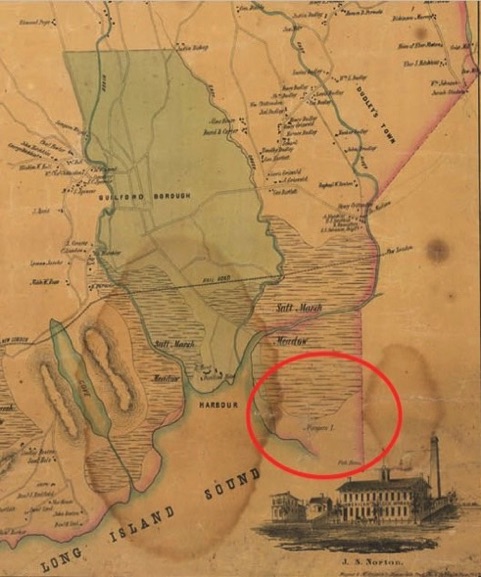 Map of the Town of Guilford, New Haven County, Connecticut

H. Irvine 1852
Munger land at The Neck in red circle.