(Sprinkle, Sprengle, Sprenkle)

in

Pennsylvania

An evidence based reconstruction of his life and land

1724-1831
     "Pennsylvania had been a colony for a trifle over forty years when Michael Springle first appeared as a landholder. The year was 1724 and Michael was listed as a taxpayer on the assessment list for Conestoga Township, then Chester County. Michael's last name was spelled "Springle" on the list and continued to be spelled that way during his lifetime, although sometimes when written by others, it was spelled Sprengle, Sprinkle, Sprenkle, or even in bizarre ways such a Spingle, Stringle, Sprigll, and even Arringall."
Thus begins this revisionist history of Michael Springle, his Life and Land, 1724 - 1831.
Combining genealogy with history is a must for 21st century scholarship. This new book about Michael Springle, published in April, 2012, is an example of how it can be done.
Using tax, land and probate records in combination with Pennsylvania colonial records, presents a revised and accurate picture of Michael Springle, an enterprising, prosperous, Pennsylvania German farmer.
From 1724 to 1734, Michael Springle and his family lived on the east side of the Susquehanna River in the area of Chester County that became Lancaster County. Moving to the west side of the Susquehanna River between 1732 and 1734, the family lived in the area of Lancaster County that became York County one year after Michael's death in 1748.
A close examination of records, such as the original fragment of Michael Springle's will and the inventory and administration accounts of his estate, and a complete set of land records, shows how Michael obtained land, his role in the taxation process, issues with the naturalization of foreigners, the development of roads and ferries, border problems between Pennsylvania and Maryland, and his farm and home life. Over sixty original records, maps, and drawings illustrate the text.
Michael Springle's life did not end with his death, but continued as long as his land remained in the family. Deed and estate records of his heirs and of his heirs' heirs show Michael's influence in their lives. Building upon these records reveals how Michael's land ended up within Springetsbury Manor and became a model in a legal battle that worked its way to the United States Supreme Court.
Over the last several years, Michael had become an enigma to Sprinkle - Sprenkle - Sprankle family researchers. The accurate spelling of his surname presented confusion and his place of origin still remains unknown. The existence of important records had been overlooked in favor of relying upon undocumented, secondary sources. The story of his life had become so imbued with misinformation that a revisionist study was necessary. All descendants of Michael Springle should read this book, as well as all researchers who want a model of how to combine history with family genealogy.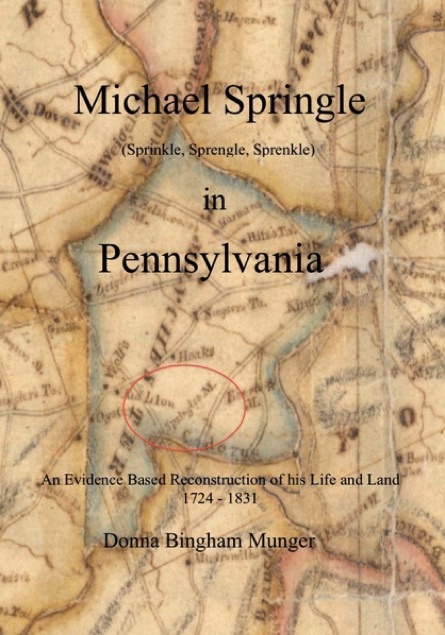 1818 Melish-Whiteside map of West Manchester Township, York County

showing location of Michael Springle's land (Springles M.)

Pennsylvania State Archives
PETER: born c.1723, m. Hannah Eyster

ELIZABETH: born c. 1725, m. John Strickler

ANNA BARBARA: born c. 1727, m1. Adam Hoffman, m2. Ludwig                      

    Treiber/Driber

ESTHER: born c. 1729, m. Jacob Keller

SUSANNAH: born c. 1731, m. Henry Landes

MICHAEL: born c. 1733, m. 1 Margaret Eyster, m. 2 Elizabeth Weigel 

ANNA MARGARETA: born c. 1735, m. Ludwig Keefer

CHRISTIANA: born c. 1737, m1. Abraham Keefer, m2. Jacob

    Welschans

CATHARINE: born c. 1739, m. Adam Troerbach

GEORGE: born 1741, December, before the 27th, m1. Christina Eyster,         

     m2. Barbara Miller

HENRY: born c. 1743, m. Anna Maria/Mary Nunnemaker

EVE: born c. 1745, m. Michael Miller

MANDOLINE: born c. 1747 - died bef. 1762

MARY: born c. 1747 - died bef. 1762
Please note:
1.All dates are approximate; for explanation see the book.
2.Dates in other publications have no basis in evidence; they are fictitious. No birth or baptismal records exist for Michael Springle's family; for explanation see the book.
VIEW AND BUY THE BOOK ON AMAZON

In the search bar for Books enter Michael Springle or Donna Bingham Munger